Aired live on Tuesday, October 24 at 1:00 PM ET
Making Change Together:
The Importance of Business and
Community Partnerships
Interested in
Learning More?
As we approached October 28th, National Make a Difference Day, we couldn't help but think about how crucial the role of community engagement is — particularly when it comes to businesses and their relationship with their local communities.
On Tuesday, October 24th at 1:00 PM ET as we sat down with Tammy Cummings, Feed More's Chief Administrative Officer, to discuss the importance of business and community partnerships.
During this webinar, we discussed:
Feed More's own initiatives to create a positive impact in their community.
The significance of community engagement in today's business landscape.
How businesses can effectively engage with their communities.
Practical tips for businesses looking to enhance their community involvement.

Presenters:
Tammy Cummings
Chief Administrative Officer,
Feed More
Ryan Tagg
Inside Sales Manager, Dominion Payroll
In partnership with: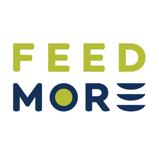 Feed More is dedicated to feeding our neighbors who are food insecure. They collect, prepare, and distribute food to neighbors in need across 34 cities and counties in Central Virginia. Click
here
to learn more about Feed More and their efforts.